Eric Toney is dedicated to the safety and security of Wisconsin families.  A tough and proven prosecutor, Eric was first elected Fond du Lac County District Attorney after a contested Republican primary election in 2012. Eric has successfully prosecuted crimes as varied as homicide, sexual assault, domestic violence, drug trafficking, financial crimes, and racketeering. Eric is serving in his 10th year as the Fond du Lac County District Attorney.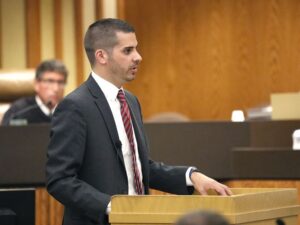 As Wisconsin's next Attorney General, Eric will restore the Department of Justice's mission to fight crime, support law enforcement, protect families, and enforce the law.
Tough, Experienced Prosecutor 
Eric Toney is dedicated to the safety and security of Wisconsin families. Eric has been serving as the Fond du Lac County District Attorney since January 7, 2013 and has successfully prosecuted homicides, sexual assaults, drug trafficking, domestic violence, financial crimes, and racketeering.
An experienced attorney and prosecutor, Eric has appeared in courts across Wisconsin including appearing in Fond du Lac, Marinette, Brown, Manitowoc, Outagamie, Calumet, Winnebago, Sheboygan, Dodge, Washington, Richland, Juneau, Milwaukee, and Racine counties.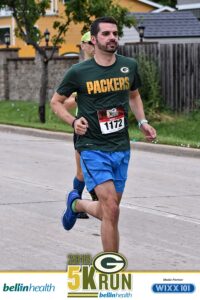 Eric helped establish a drug treatment court in Fond du Lac County and recognizes that our state needs to take an "all of the above" approach toward dealing with the ongoing methamphetamine and opioid epidemics that has raged in Wisconsin. Eric has seen firsthand the important work that is done in Fond du Lac's drug treatment court and recognizes that incarceration is only one part of the solution in fighting the drug epidemic. 
Dedicated to the Law 
Born at St. Agnes Hospital in Fond du Lac, Eric grew up in a law enforcement family.  His father retired after over 30 years as a law enforcement officer. Eric knows firsthand the dedication, sacrifice and commitment of our men and women who take an oath to serve and protect as well as the sacrifices family members of law enforcement officers make day in and day out.
Upon graduation from Fond du Lac High School, Eric earned his undergraduate degree from St. Norbert College in De Pere, Wisconsin, with a double major in History and Political Science. He then graduated from Law School at Hamline University where he focused on criminal law and received a certificate in Alternative Dispute Resolution.
During each of his summers as a law student, Eric returned home to Fond du Lac to intern in the District Attorney's Office where he was inspired to spend his career in criminal law. 
Leadership 
As District Attorney, Eric, and other Fond du Lac County officials, led the fight to ensure communities throughout Wisconsin are no longer a dumping ground for violent sex offenders mandated to be released from the Sand Ridge Treatment facility. Instead, these violent sex offenders, if ordered released by a judge, must be returned to their county of residence and not wherever the Department of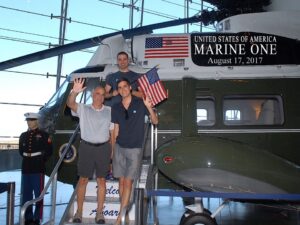 Health Services choses to place them.
As District Attorney, Eric worked with local community leaders and together they created Fond du Lac County's first ever Drug Court. Eric and others later formed an Opioid Coalition to combat the opioid epidemic Fond du Lac has been experiencing. Eric served as chair of the coalition, helping guide the coalition's merger with Drug Free Communities of Fond du Lac County.
Eric is the President-Elect of the Wisconsin District Attorneys Association (WDAA) and has served in a variety of leadership positions in the WDAA including Chairman of the Legislative Committee as well as Chairman of the Communications Committee.  He is also a former Secretary/Treasurer of the Association.
During the pandemic Eric helped provide pandemic guidance to local officials, local law enforcement, and district attorneys throughout Wisconsin. Eric helped coordinate with regional district attorneys to form a unified approach to dismissing safer at home charges. In August of 2020 Eric advised local officials that Governor Tony Evers exceeded his executive authority by unlawfully extending the public health emergency, beyond 60 days. This unlawful executive overreach meant the mask mandate could not be enforced. On March 31, 2021 the Wisconsin Supreme Court ruled that the Governor's subsequent public health emergency declarations were an unlawful extension of the original public health emergency.
During Eric's tenure as District Attorney he has led county wide law enforcement trainings for local law enforcement officers in Fond du Lac County. Eric has also consistently provided guidance to law enforcement on complex criminal investigations to help ensure his community remains safe.
VOLUNTEERING
Eric volunteers in the community as a judge and trainer for Teen Court. He is also a board member of the ASTOP (sexual assault survivor advocacy non-profit) and the Fond du Lac Running Club.
Eric also volunteers with Drug Free Communities of Fond du Lac County and Fond du Lac County's Health 20/20 Committee and serves on the subcommittee for Alcohol Use and Abuse.
Eric is also a proud member of the Fond du Lac County and Eastern District of Wisconsin Bar Associations. Eric is also a member of the Federalist Society, Life Time Member of the NRA, a former executive board member of the Fond du Lac County Republican Party, and is a Badger Boys State alum.
FREE TIME
Throughout his life, Eric has been an avid competitor. He began running competitively in middle school. Eric served as Captain of his high school and collegiate track and cross country teams. He enjoys spending time with his family and his dog Patton, rooting for the Packers and Badgers, attending sporting events, reading, spending time with his friends, and running. Eric has completed seven full marathons and is a proud owner of the Green Bay Packers.