I'm running for Attorney General to restore the Department of Justice's mission to fight crime, support law enforcement, protect families, and enforce the rule of law. 
Wisconsin's current attorney general has been a disappointment. He has failed to support law enforcement, politicized the Department of Justice, failed to defend our election laws, has rejected the title of Wisconsin's "Top Cop" and has begun to systematically defund the Department of Justice's ability to prosecute cases in Wisconsin.
I grew up in a family dedicated to protecting and serving the community. I am the proud son of a frontline law enforcement officer and I watched my dad serve with distinction for more than 30 years in law enforcement, the majority of it with the Fond du Lac County Sheriff's Office. I know the feeling many law enforcement families have of not knowing if their loved ones will return home at the end of their shift and I am fortunate that my dad returned home safely after every shift. As District Attorney, I've had to participate in officer involved death investigations and have sat with the family of a fallen officer, thinking that could be me on the other end of the table having a district attorney explain to me how my dad died. I proudly Back the Badge.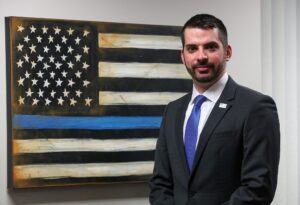 I support Qualified Immunity for law enforcement

, and I will fight any attempts to repeal it.  Qualified immunity is a necessary protection for law enforcement officials to ensure they are able to maintain law and order without the threat of legal action. Without qualified immunity I fear law enforcement officers would leave the provision in droves, increase costs for policing and negatively impact their decision-making, which would ultimately make our communities less safe. Law enforcement deserves an Attorney General who will have their back.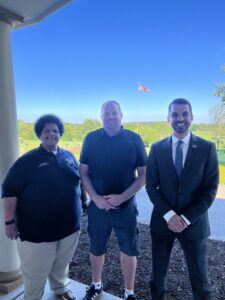 I support improving our criminal justice system

, from the courts, to prosecutors, all the way to law enforcement. But only when working collaboratively and including our law enforcement partners in the discussion. I recognize the overwhelming majority of our law enforcement professionals are amazing women and men that would give their life to keep Wisconsin safe. I also recognize we have some bad apples, just like any profession and we don't want them serving as law enforcement officers in our communities. Those bad apples do not represent the overwhelming majority of our amazing law enforcement professionals. As Attorney General, I will speak out when needed but never before we have all the facts and never for political reasons.
I strongly support improving and defending Wisconsin election laws.  I'm prosecuting more election fraud than anyone in Wisconsin and has already convicted two defendants of breaking Wisconsin election laws in November 2020. I'm also fighting to hold the Wisconsin Election Commission Board accountable for their actions in 2020. 

The Attorney General is responsible for defending state law, including issuing opinions to clarify the law or filing lawsuits to defend our election laws. As Wisconsin's Attorney General, I will fight to ensure all ballots are treated equally throughout our state, regardless of what county they are cast in.
I will rescind the devastating cuts the Attorney General has made to DOJ's Criminal Litigation Department on my first day as Attorney General.

The Attorney General has defunded the prosecution by intentionally cutting the number of prosecutors at DOJ by nearly 26%. This compromises public safety in our state by reducing the resources available for district attorneys and law enforcement in Wisconsin. His effort to balance his budget has come at the expense of community safety. By purposely understaffing DOJ Criminal Litigation Unit, it more difficult for prosecutors and law enforcement to do their jobs
I support our State and Federal Constitutions, and I will oppose federal overreach by Biden Administration.

Whether it is the Second Amendment,  protecting the unborn, ensuring our immigration laws are enforced fairly, and defending the rights of crime victims, our constitutional rights are sacred, and I will vigorously defend them against any federal overreach.
I oppose red flag laws.

These laws serve to restrict people's lawful right to exercise their constitutional Second Amendment rights. Wisconsin has laws on the books that guarantee due process rights for any firearm restrictions. We can't legislate our way to safety on this issue and it will only serve to impede law-abiding citizen's constitutional rights.
I support victims' rights and prioritizing the fight against human trafficking, Internet crimes against children and opioid abuse.

  With limited resources, the Department of Justice must focus on crimes which it is uniquely designed to combat. Too often Josh Kaul has put his personal political considerations above the public good and has failed to be the "people's lawyer" or do justice under the law.
I support curtailing unlawful administrative overreach. Wisconsin law limits administrative agency authority to that which is explicitly granted by statute. Anything not explicitly granted must go through the rule making process and I will defend these laws, as the Attorney General is required to do.